Configure Appointment Details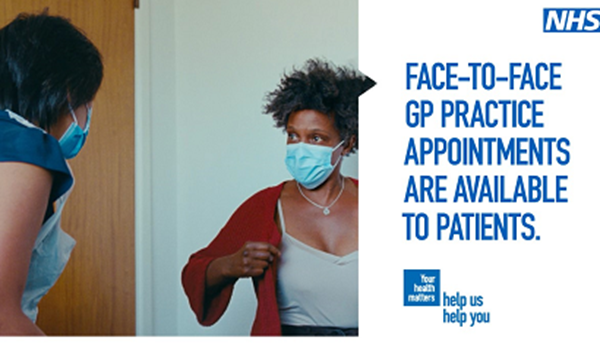 PLANNED CARE
The COVID 19 pandemic has meant that there are more people waiting for an operation. This means that some people are waiting a long time for a hospital appointment or for treatment.
We know that it can be very difficult for many people who are waiting.
The NHS is working hard to see people as quickly as possible, but it is going to take a while before waiting times are back down to where they were before the COVID-19 pandemic began in the UK in early 2020.
Here you can find information to help you to look after your health and wellbeing while you are waiting for a hospital appointment or treatment. This includes information on how to find local support.
You can also find information to help you to prepare for your appointment, including what to expect at your appointment.
Please click on the link for further information Planned Care
CANCEL AN APPOINTMENT
It is important that you inform the reception staff if you are unable to attend your appointment, this will allow that appointment to be offered to another patient.
The practice has a procedure for patients who fail to attend their appointments if you do not attend your booked appointments and do not contact the practice to contact the appointment; you will receive a letter from the practice. If after receipt of this letter you continue to fail to attend appointment the practice may have to consider removing you from the practice list and request that you register with another practice. The practice team do not wish to lose patients this way and the easiest way to stop this happening is to let us know if you cannot attend.
SELF - REFERRAL
The community of pharmacies in Preston will treat minor ailments and supply medicines according to the Greater Preston CCG minor ailments local formulary
Many minor ailments can be treated at home with the help of the Minor Ailments Scheme operated by the pharmacists in the Preston locality. Medicines will be supplied free for patient exempt from prescription charges. Please click on the link to take you to our self-treatable conditions page Self Treatable Conditions
If you require an appointment in relation to Mental Health, you now can self refer without speaking to a clinician. Please click on this link to Self-Refer Mindsmatter Self-Referral
ACCESSIBLE INFORMATION STANDARDS
Park Medical Practice have access facitilies in place to accomodate a consistent approach to identifying, recording, flagging, sharing and meeting the information and communication support needs of patients, service users, carers and parents with a disability, impairment or sensory loss.
If English is not your first or preferred language the practice is able to access language line. This service provides the best-trained team of interpreters and the highest quality translations in the language services industry.
Please contact our Reception Team for further information.
HUBS ACCESS – EVENING & WEEKEND APPOINTMENTS
Hub Appointments – 01772 529200
If you're a patient with a chronic, complex, or long-term condition then in order to ensure your continuity of care it is important that you are seen by your GP here at the surgery. However, patients with non-chronic problems may get an appointment with a GP or other health care professionals far more quickly or at short notice at one of the community hubs.
Monday to Friday 18:30 to 20:00 at St Marys Health Centre
Saturday 08:00 to 12:00 at St Mary's Health Centre
Sunday 09:00 to 11:00 at Briarwood Medical Centre
The service offered is for pre-booked appointments and also a limited amount of appointments which are bookable on the day.
Please note that once hub availability is full you may be directed to an alternative service.
In a genuine emergency you should call 999. Chest pains and / or shortness of breath constitute an emergency.
TEXT REMINDER SERVICE
We have a texting service which allows you to receive confirmation and reminders about your appointments.
To have this service you will need to register by completing a consent form.
Please remember to update your contact details with us when you change address, telephone numbers and email address.